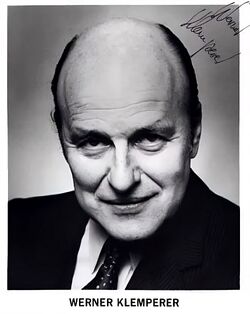 Werner Klemperer (Cologne, Germany, March 22, 1920 — December 6, 2000 in New York City) was an Emmy Award-winning comedic actor, who was best known as Colonel Wilhelm Klink on the Hogan's Heroes television sitcom.
Biography
Edit
Werner was born into a musical family. His mother, Johanna Geisler, was a soprano and his father was the famous conductor and composer, Otto Klemperer. His father's cousin, Victor Klemperer, was the author of a couple of published diaries which talked about life in Nazi Germany. Werner was a "Halbjude" (1/2 Jew), but raised a Catholic. While growing up, he took lessons in playing the piano, trumpet and violin, while his father, Otto, worked as a conductor at the Cologne Opera House, and later at the Kroll Opera House in Berlin during the 1920s until the Nazi takeover in 1933. After the closing of the Kroll and then the disappearance of a physician whose only crime was being Jewish, Otto took his family out of Germany, stopping first in Vienna, Austria and then in Los Angeles, California, arriving in the later city in 1935.
Werner quickly adapted to life in the United States. He began acting in high school, soon enrolling at the Pasadena Playhouse. When the United States entered World War II, he joined the U.S. Army, soon stationed in Hawaii as a military policeman. While there, he joined the army's Special Services unit, spending the next two years entertaining the troops in the Pacific Theater.
After the war, he returned to the United States, moving to New York City, where he worked as a radio and stage actor, a stage manager and when necessary, as an usher and waiting on tables. He debuted on Broadway in 1947, in the production, Heads or Tails. His big break came in 1954 with Dear Charles, where he played a tempermental Polish pianist wooing Tallulah Bankhead. When the tour arrived in Los Angeles, film and televison offers were waiting for him.
Werner started out playing heavies and foreign characters, thanks to his looks (at 25, nature have already given him his more recognizable appearance) and his accent. This included playing Nazis, starting with his role as the monster, Adolf Eichmann, in Operation Eichmann. He also appeared in the films, Judgment at Nuremberg and Ship of Fools, and television shows, Man from U.N.C.L.E., Voyage to the Bottom of the Sea, Perry Mason and Alfred Hitchcock Presents. But Werner's most famous claim to fame would be playing the witless Commandant of Stalag 13, Colonel Wilhelm Klink.
Werner, when he auditioned for the role, was originally not informed that the show would be a comedy set in a POW camp. After learning the truth, he decided to accept the role, but on one condition: that Klink be portrayed as a fool and he never succeed in anything he attempts. Otherwise, he would leave the show. The show became a success, staying on the air for six seasons (1965 to 1971), and still being shown on televison today as reruns in syndication. Personally, Werner was nominated five times as Best Supporting Actor in a Comedy Series, winning two Emmys in 1968 and 1969. Klink is one of the most beloved characters in American television history.
Werner would play Klink only once more after the end of the series, in a 1993 episode of The Simpsons as Homer Simpson's guardian angel/spirit guide.
Although now identified as Colonel Klink, Werner refused to be pigeonholed as the character. After appearing in such films as The Wicked Dreams of Paula Schultz and Wake Me When the War Is Over, he returned to working on the stage. After his father's death in 1973, Werner was confident enough to embark on a musical career, as an opera baritone and as a singer in musicals. He had appeared in die Fledermaus, The Merry Widow, Abduction from the Sergalio, The Sound of Music, Master Class and Cabaret, for which he had received a Tony Award nomination for his performance as the Jewish shopkeeper Herr Shultz. He has also acted as a narrator for several plays, including Peter and the Wolf, Egmont and Lelio, as well as having conducted orchestras on several occassions. He was also an accomplished concert violinist.
He had supported several organizations, being on the Board of Directors of at least two of them.
He had made appearances on several television dramas.
He died on December 6, 2000. His body was later cremated and his ashes spread across the ocean.
Filmography
Edit
Notable TV Guest Appearances
Edit
Casting Director
Edit
External links
Edit