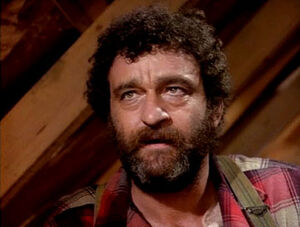 Victor French (December 4, 1934 — June 4, 1989) was an American actor, who is best remembered for his roles of Isaiah Edwards on Little House on the Prairie and Mark Gordon on Highway to Heaven where he co-starred with Michael Landon, as well as played Chief Roy Mobey on the sitcom, Carter Country. He also appeared in an episode of Hogan's Heroes where he played one of a trio of Commandos.
Biography
Edit
French was born in Santa Barbara, California, the son of stuntman Ted French and the grandson of actor Charles A. French. His acting debut was a small part in Lassie. His first film experiences were in westerns where he normally played the bad guy. He appeared in such films as The Quick and the Dead, Spencer's Mountain, Death of a Gunfighter, Rio Lobo, The Other, The House on Skull Mountain and The Nickel Ride. During this time, he also appeared on such television shows, besides Lassie and Hogan's Heroes, Hazel, The Virginian, Mister Ed, Wild Wild West, Dr. Kildare, Batman, Get Smart, where he had a recurring role as Agent 44, The Hero, which he co-starred, Lancer, Dan August, Bonanza, The Streets of San Francisco, Kung Fu, Mannix, and Mission: Impossible.
In 1974, he began appearing on Little House on the Prairie as Isaiah Edwards. He left the show three years later to play Chief Roy Mobey on the short-lived Carter Country. After Carter Country went off the air, he returned to Little House for the rest of the series' television run. He next appeared on Highway to Heaven, being the human companion to Michael Landon's angel character. During this time, he also appeared in Petrocelli, Disneyland, An Officer and a Gentleman and Fame. In the 1980s, he declined to perform any more bad guy roles. He also directed several television shows, including Little House on the Prairie, Gunsmoke, Dallas, Buck Rogers in the 25th Century and Father Murphy. He also directed in LA theatres, winning a Critics Circle Award for his directing of 12 Angry Men.
He died on June 4, 1989, from lung cancer, after years of heavy smoking, in Los Angeles, California.
In 1998, he was inducted into the Western Performers Hall of Fame at the National Cowboy & Western Heritage Museum in Oklahoma City, Oklahoma.
Filmography
Edit
Notable TV Guest Appearances
Edit
Director
Edit
External links
Edit