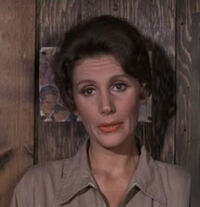 Louise Troy (November 9, 1933 — May 5, 1994) was an American actress, who had appeared in several television shows and films, as well as stage. She has appeared as a guest star on such shows as The Defenders, Hawaii Five-O, Barnaby Jones, The Odd Couple, Lou Grant, 227, Kate & Allie and Newhart, as well as appearing in three different episodes of the 1960s American television sitcom, Hogan's Heroes. She also appeared as a regular on the soap, The Guiding Light for two seasons as two different characters. Louise's film credits include the original Yours, Mine and Ours, The Swimmer, Ghostbusters II and Missing Pieces.
She was originally trained for the stage at the American Academy of Dramatic Arts, in New York City, where she was born. Her stage debut was at the Club Theatre in 1954 in the play, "The Infernal Machine", for which she received the Show Business off-Broadway Award. She later played the ghostly Elmira in Noel Coward's play, "Blithe Spirit" as well as the more mortal wife Ruth in the 1960s musical version of the play, "High Spirits". Louise would be nominated three times for a Tony Award, twice as Best Featured Actress (Musical) in 1963 and 1964 and the third time as Best Actress (Musical) in 1967.
She was the second wife of Werner Klemperer, whom she met while playing Baroness Lili in an early episode of Hogan's Heroes. The two married in 1969, but were later divorced. She later married the actor, Douglas Seale. Louise worked with him in Ghostbusters II but the two appeared in different scenes in the film. They were married until her death.
In 1994, she died in New York City from breast cancer.
Filmography
Edit
Notable TV Guest Appearances
Edit
External links
Edit